You guys know that I work at Starbucks, right?  80% of my costumers seem to be young women, ages 12-20.  Seriously.  If you are a young guy looking for cute girls, get a job at Starbucks.  You'll be inundated.
In addition to seeing the latest in makeup and clothing trends (high-waisted bottoms- wwhhyyy???!!) I've also noticed a disturbing trend…
I see so, so many young women bearing the scars of self-harm.  It brings tears to my eyes, even now, thinking about it.  All the scars on such young skin; outward evidence of a terrible inward pain.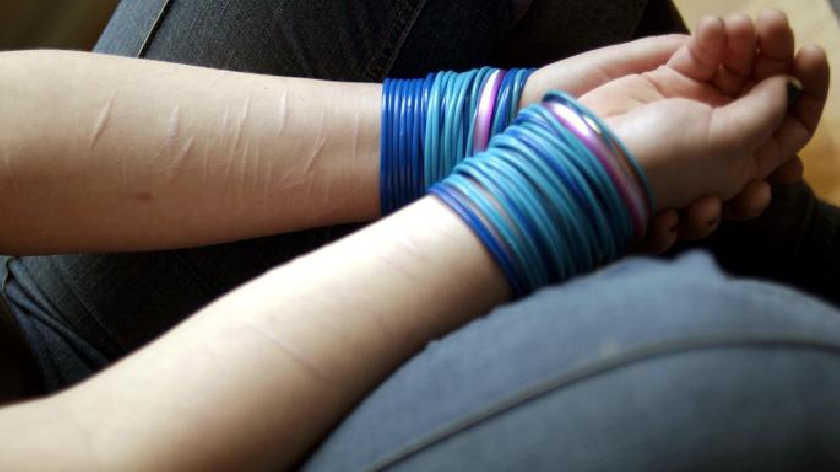 I'll be totally honest and admit that I experimented with self-harm as a teen too.  Thankfully that period didn't last long and my mom took me to get most of the scars lasered off.  I know what it is like to be that depressed, that mired in self-hatred.  The worst thing about it is the hopelessness.  You don't want to do anything to improve your situation because you just can't see how anything could possibly help.  How it could ever possibly get better.
What I would say to those girls, is that it can and does get better.  You will not always be suffocated in the darkness in your own mind.
So much of that is dealing with hormones and the horrors of public school!  Trying to fit in when your are struggling with serious depression, low self-worth, problems at home, etc.- it's a complete nightmare.
Things get so much better when you get out of school and realize that you are not the labels people may have put on you.  You don't have to continue to invest in toxic relationships.  You can just be *you*.
I always felt very strongly that I could and should overcome my depression naturally.  And I have.  I'm not "knocking" medication.  I really do believe some people need it.  Maybe for a season, maybe for life.  But it is possible to overcome depression through lifestyle changes.
I used to have constant heart palpitations and anxiety.  It was so bad that a doctor put me on a blood thinner at only 17.  It took me years to realize that it was the artificial sweeteners I was ingesting that was throwing off my heart rhythm and keeping me in a constant state of uneasiness.  I stopped my 3-4 cans of diet coke daily habit and the heart issues disappeared.
I also eventually realized that sugar was keeping me on a horrible roller coaster ride of emotions.  With my blood sugar up, I felt happy and energetic.  But then would come the crash; irritability, anger, depression.  Going through that cycle every single day made me feel crazy and out of control.
You can not isolate brain/emotional health from your overall physical health.  Especially if you, like me, are naturally prone to depression or anxiety.  You really need to employ every trick in the natural health handbook.
You need to treat your body with love and respect.  You need to talk to yourself like you would talk to a close friend.  No berating or shaming.  When you start to feel a tidal wave of depression rising up, do your best to fight it and stave it off with positive thinking.  It's sounds really simple, but it works.  When I start feeling those old feelings trying to pull me down, I will start listing off things that I am grateful for.  I will focus on the good things in my life.  I just don't go there; that dead end of despair and discouragement.
The opposite of hurting yourself is investing in yourself.  Building yourself up.  You can do that literally or figuratively.  I was the girl that was terrified of gaining weight and wouldn't lift heavier than 5#.  Now I strength train 2-3 times a week and love it.  You don't have to lift weights, but find a form of movement that brings you joy.  There is just no feeling of being alive like pushing your body physically.  There is ever-growing evidence that exercise is just as, or even more; effective than drugs for depression.  Even getting out for a walk in nature can do absolute wonders.
If you are doing what you can to take care of your body, so many things will get better on their own.  I wouldn't have the audacity to say that unless I had lived it out.  I came out of very severe depression to a life that isn't perfect, but is meaningful and joyful.  The things I have been through have shaped who I am, in a positive way.  Would I be the person I am today had I not had to fight my way out of the darkness?  I don't think so.  It may seem dark now, but I promise, you will get to the point where you can look back and see beauty and meaning in the journey.
Please don't give up.  Decide, right now, that you will never intentionally harm yourself again.  That you will be brave and get through this with your chin up.  You will, I promise.
So much love, Sierra